Since last week, the internet has been acting up and is driving me nuts. I have been getting random and intermittent internet problems. To be exact, the irritating "white screen" on both my Firefox and IE8 browsers.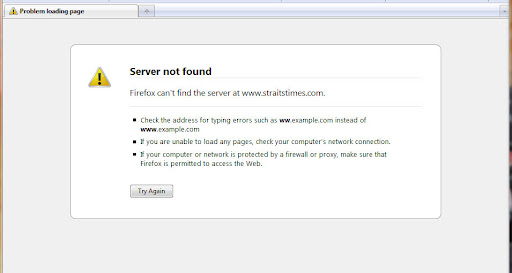 On the worst day, I can't even surf past one page. No matter how many million times I click on the refresh button, the "white screen" remains painted on my screen. The ADSL connection remains alive, but somehow there is a loss of connection in the modem or Singtel's line. I googled up and found out there is a spike of users reporting the same problem since last week. If you are on the Singtel MIO TV bundled broadband and using the 2Wire 2701HGV-E modem/router, you'll most likely have the same problem too. Either the modem is crappy or Singtel's internet routing is bad. I found a temporary solution to it. In your internet options, go to the Network or Connection tab (depending on your browser) and use "
proxy.singnet.com.sg
" as your proxy and port number "
8080
". I'm not sure if this method works for others, but mine has been running fine; at least for the moment. This band aid solution is not going to help in the long run. The bottom line is, Singtel better buck up and address this issue rather than skirting around it with their lousy customer support. Give your customers better modem, good technical support and improve your connection! I'm not going to renew the contract nor getting any new products from Singtel until I see improvements in their service.
* if you find this solution helpful, do spread the news to other singtel broadband users.